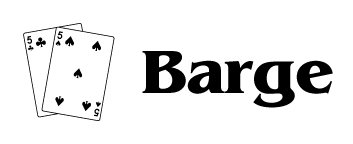 Click here to review your registration.
Rules
Please read and understand all of the following rules before registering.
BARGE is an Internet event. Therefore each person registering must have an Internet account and register for themselves.
Should any event at BARGE be cancelled, even at the last minute, your $20.00 membership fee will not be refundable.
All fees mentioned above will be used to cover expenses or placed in the BARGE, Inc. general fund.
There is no specific maximum capacity for any of the tournaments; however, if the host casino determines it must impose one, players will be admitted to each tournament in order of their registration / suggestion of intent to play, as recorded at secure.barge.org.
Please direct any questions to the organizers, Russ Fox (russ@barge.org), or Stevan Goldman (goldie@barge.org), or Rich Bremer (omaholic@barge.org), or Jeff Deitch (blofeld@barge.org).